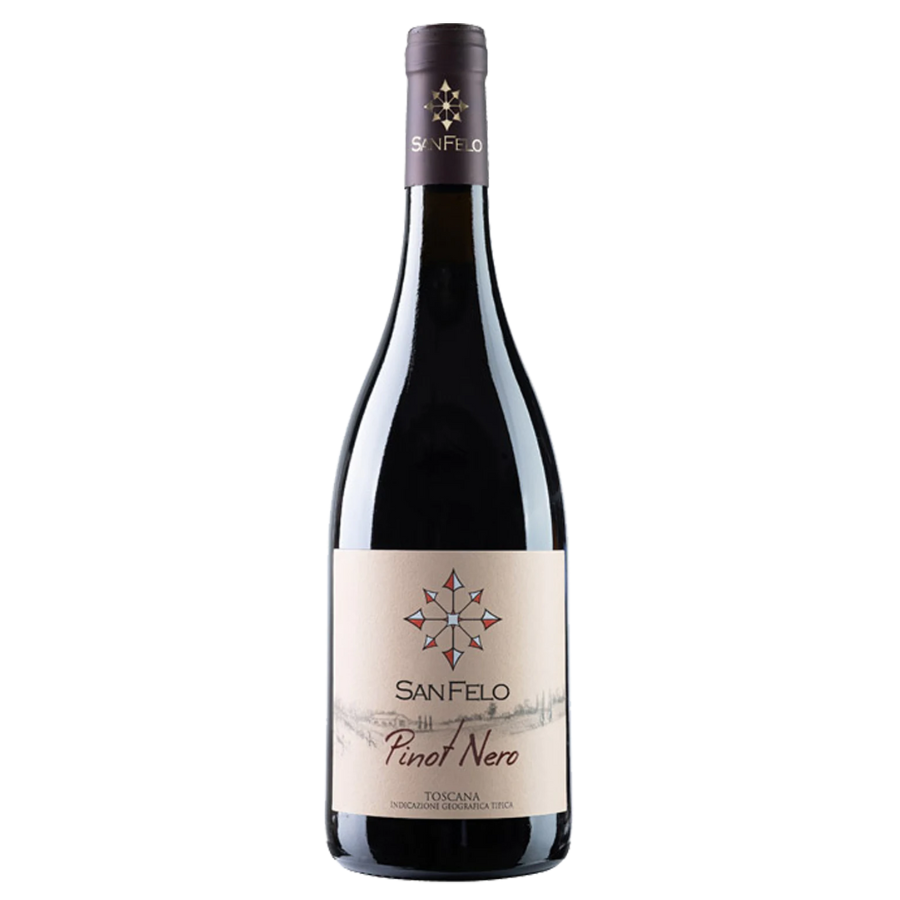 Compare at $35/bottle elsewhere
It was the last day of VinItaly 2022 and I was steering myself out of one of the 11 gigantic meeting halls when one of my logistics reps called me over to meet his friend Federico and taste his wines. Despite my rather thrashed palate, I obliged and was promptly enthralled, leaving a series of asterisks and exclamation points scribbled alongside various dots of spilled wine. Yes, it had been a long day.

Never one to commit to anything after a long day of tasting, I begged off but made certain to circle back up with Federico and get samples stateside. After re-tasting I determined I was, indeed, of sound mind when I made those scribbles and, after some tough negotiations (these are not inexpensive), committed to a variety of San Felo wines.
Up first are Fattoria San Felo's very unique and beautifully rendered 2018 and 2019 Toscana Pinot Nero's (aka Pinot Noir).
Now, Pinot Nero is a not often seen varietal in Tuscany; however, as James Suckling says about Federico's wines: "Pinot nero from Tuscany is not usually successful, but this one is very good" and scoring the 2016 and 2017 vintages 91- and 90-point's respectively. I've not had the 2016, but have had the 2017 and can vouch that the 2018 and 2019 are better than the 2017 - they are certainly excellent to fantastic vintages in Tuscany.

The vineyards are all estate, planted at 150- to 180-meters above sea level in the rolling hills of Maremma Toscana; however, due to Italian labelling laws (Pinot Nero not recognized as primary to the appellation), the wine can only carry the IGT Toscana appellation.
The grapes are hand-harvested and then aged in barrel for 18-24 months, only a small portion of which, 15%, are new French oak. The result is a elegant-yet-potent Pinot Noir with nuanced complexity and a supple-yet dry richness on the palate with excellent minerality and refined tannins providing perfect balance. Only a thousand cases a year are produced - everything about this wine screams "artisanal".

We have less than 50 cases of each wine. Very little makes the states but I've seen pricing as low as $35/bottle and as high as $45.

San Felo 2019 Pinot Nero
Medium-to-deep garnet in the glass - bit more extracted than the 2018. Deep and savory on the nose with black cherry, leather, cola nut and dark chocolate swirling with tobacco, cedar and coriander spice. Full-bodied, rich and fleshy on the palate making for succulent experience but the wine is beautifully-balanced by a supple, elegant tannin structure that nicely frames the intense red fruits that flesh out with hints of blueberry and chocolate in a long finish.

100% Maremma Toscana Estate Pinot Noir
18-24-months in barrel, 15% new French oak
14% alc
100 cases available
Currently clearing customs and en route to our warehouse for shipping end of January