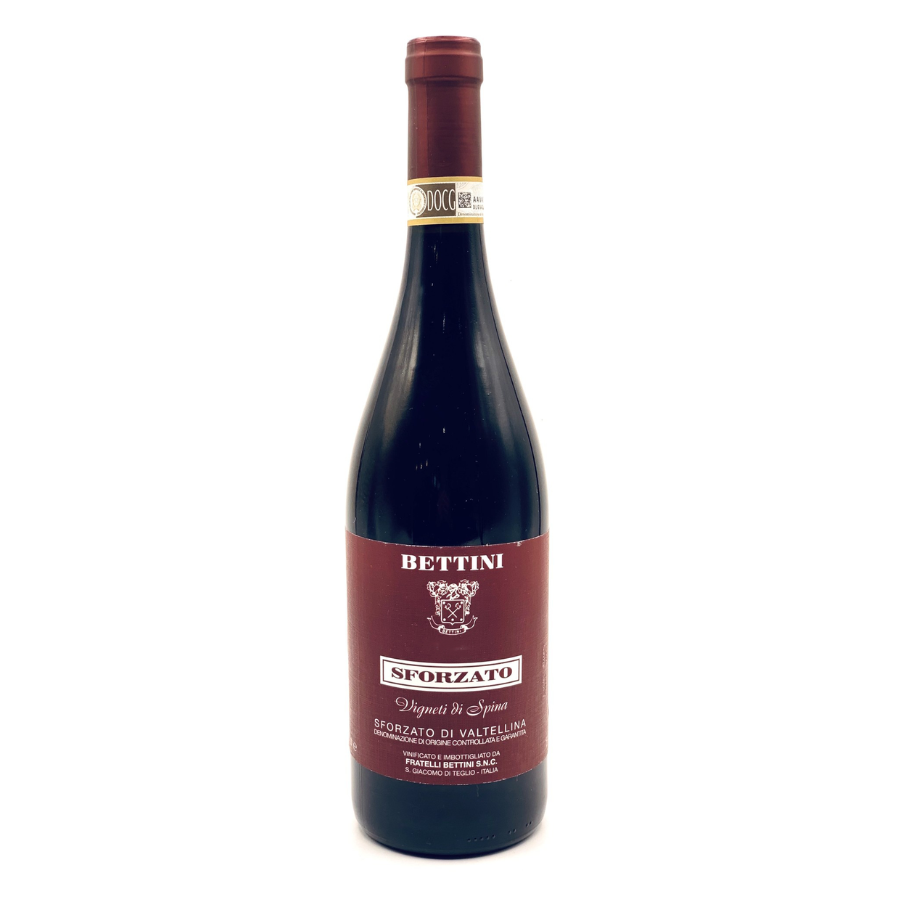 You'll recall our previous Bettini releases from Valtellina - elegant, beautiful wines reared from treacherous mountainside terraces carved over hundreds of years. In a nutshell, Sfurzat and Sforzato are Valtellina Concentrated.

The grapes are harvested and air-dried apassimento style, similar to an Amarone della Valpolicella. The name Sfursat comes from the Italian word for "straining", sforzare, and is meant to convey the concentration resulting from drying the grapes. Both wines were awarded the DOCG designation in 2003 and you can read more about the entire process at the link above. The wines are only made in the finest vintages.

I was blown away by these wines at the end of my tasting with the Bettini's at VinItaly last Spring. My notes are pretty hilarious actually, multiple asterisks, exclamation points and A+ scores.
So, I encourage you to just ignore the simply god-awful name (sorry Valtellina, but Sfurzat just doesn't hold a candle to the beautifully pronounced Amarone della Valpolicella), and take a flyer on these. If you like Amarone, or are simply looking for another adventure in wine, I think you'll find them incredible compelling. They are fascinating to consume now, but will age gracefully for many decades to come.
The wines are not inexpensive but, given the 40% production loss and the amazing results, I think you'll find they are quite reasonably priced. Especially when you consider the tiny yields, insane hillside terracing and several-hundred-case productions (not to mention all the new French oak for the Sfurzat).
2018 Sforzato di Valtellina DOCG - Vigneti di Spina (this is the family's Valgella vineyard and the drying house location) - Fermentation is begun in December after months of air-drying and the wine ages in large format, 2500-liter puncheons for 18-months before bottling. The wine must have two years of bottle age before release.

Medium-deep ruby in the glass (I preferred a BDX stem vs. BURG). Focused and concentrated bouquet of spicy cinnamon cherry candy, alpine garrigue, candied violet and rose petal lifted on rocky minerality. Very pretty but clearly there is more to come here. The wine is full-bodied, smooth and balanced on entry with candied cherry notes that run headlong into the mid-palate structure where robust, mineral-driven tannins take over before slowly resolving in a cherry-mineral supernova. The finish is fantastic - robust and ripe yet long, elegant and pretty (not to mention bone-dry). The concentrated richness combined with the ethereal Alpine structure make for a truly unique and harmonious experience.
100% Chiavennasca (Nebbiolo)
100% estate vineyard Vigneti de Spina
Aged in 600-gallons puncheons for 18-months, 2-years in bottle before release
40 cases available
15% alc.