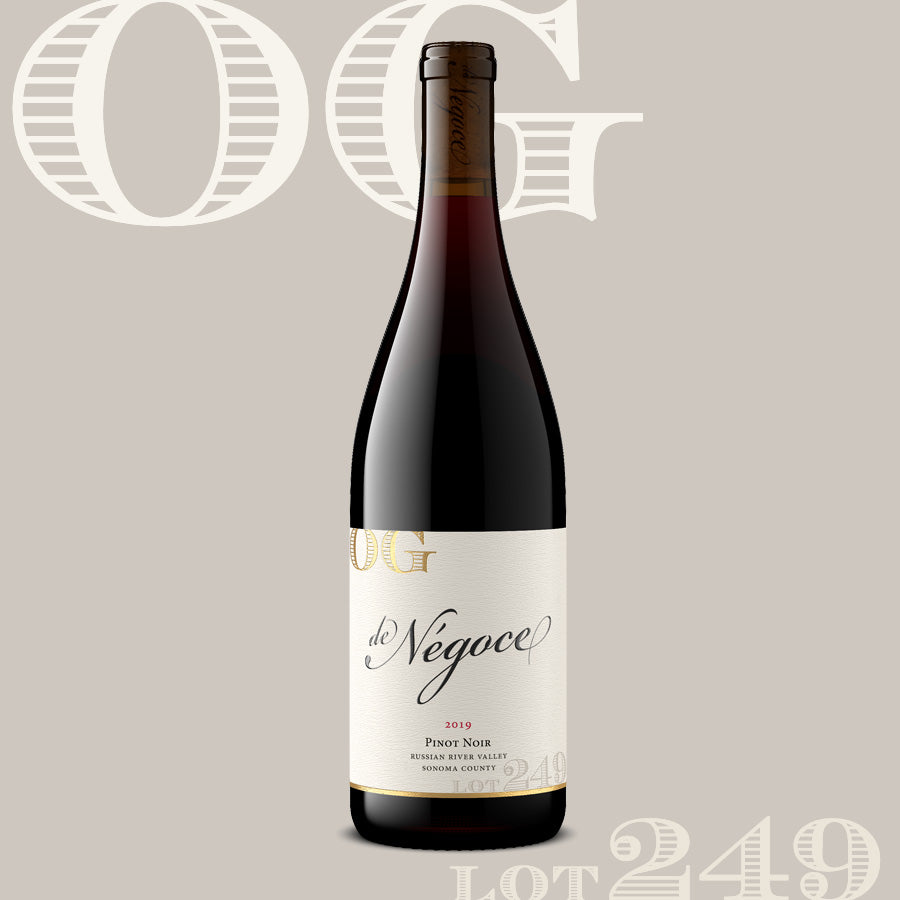 Lot 249 2019 Russian River Valley Pinot Noir comes to us from a small, family producer and friend of the de Négoce organization. Simply put, with the COVID shutdowns, they decided to trim their inventory and we purchased the lions share of the 2019 production.
Normally priced just south of $50/bottle (and I mean just south), this is a great deal at $24.
The vineyard is located on a hill crest literally 50 feet from the southern edge of the Green Valley of the Russian River Valley sub-AVA. A mix of goldridge and altamont soils, this vineyard is rapidly being discovered and bottled as a vineyard designate for a variety of ultra-premium Pinot Noir brands.

Organic farming, native yeast, partial whole-cluster-fermentation, and judiciously deployed, top-quality French oak all conspire to create an absolutely fantastic Pinot Noir. Rich, ripe and lush but wonderfully structured, open-knit and transparent with beautiful, spicy fruit, Russian River Pinot lovers will not want to miss this one.
Excellent purity throughout.

Deep garnet in the glass. Gorgeous bouquet of cola spice, strawberry, sweet cherry and plum sauce underpinned with ripe blackberry, damp, woody dirt and a kiss of brown sugar. Sexy ripe fruit greets the palate but its always in perfect balance with fresh, lively acidity that carries the plush, fine-grained mouthfeel and generates excellent persistence through the long, resounding finish. Outstanding!
100% Pinot Noir, 100% single-vineyard, 100% geeky winemaking.
20% new French oak
14.5% alc.
250 cases available.