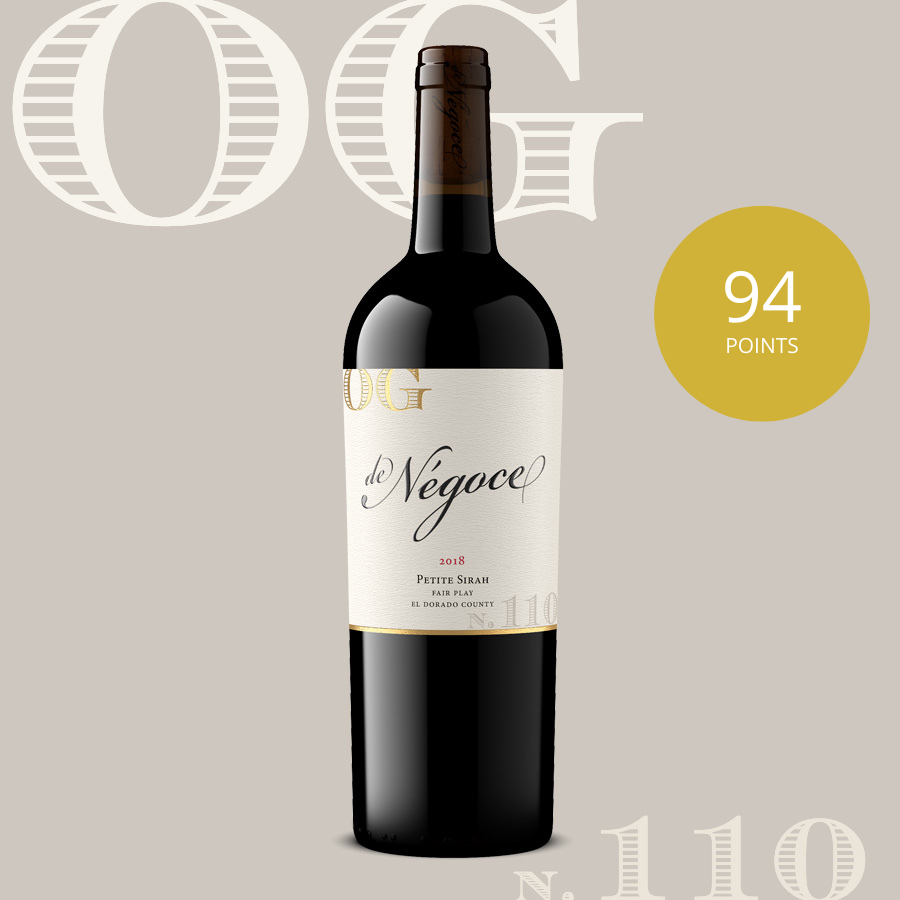 BEST OF CLASS, GOLD MEDAL - 94 Points 2022 LA International Wine Competition
The vineyards of the El Dorado's Fair Play District occupy the transitional foothills of the Sierra Nevada Mountains at elevations between 2,000- and 3,000-feet. As a result, the region has one of the larger diurnal swings in California. Renowned for powerful Zinfandel's that have, mercifully, been reigned in from the excesses of the 2000's, today the region produces wines of both power and grace and a great deal more precision.

This release is the third of several "Reserve" designated lots I purchased, all with 30+ price tags and all largely the winemaker's blends. Our only adjustment here was to blend 2% of the producer's Syrah to this wine. This is a classic Petite Sirah produced by a master of the varietal in this particular clime. With 50% new French oak and a regular retail in the mid- $30's, N.110 is an exceptional value at only $15/bottle equivalent. Only 100 cases left as of 8.18.21.

Dense and inky in the glass but with vibrant fuchsia around the rim. Gobs of blueberry and raspberry fruit mingle with black pepper and chocolate. There's a spicy halo and wonderful freshness to the bouquet with a red rock mineral note that runs throughout, providing lift and complexity. At a reasonable 14.8% alcohol, the juicy black and red fruits are warm but never overbearing, nicely balanced against firm, chewy tannins in a long, lingering finish. Will age nicely over the next decade but should be pretty approachable in April 2021.

Check-in tasting 7.11.21 - opens with rock, flower and earth are framed with blueberry, plum, pepper and vanilla. Muscular, vibrant and chewy on the palate with ample structure and dimension just cracking open. Palate staining finish is surprisingly elegant and well-balanced - and I mean really well-balanced. All of the wines form this producer are exceptional in that way. This wine has a long life ahead but ready to rock-and-roll now.
98% Petite Sirah, 2% Syrah - all estate fruit
50% new French Oak
14.8% alc.
Bottled November 30th, 2020