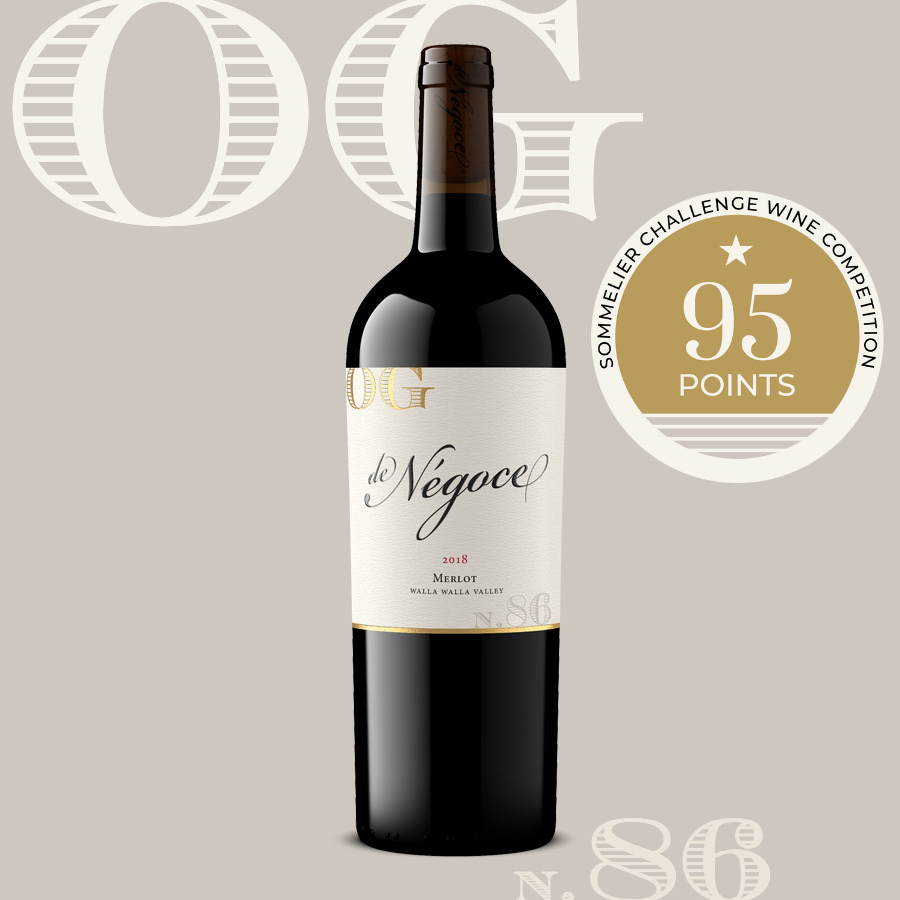 WINNER: BEST MERLOT

95-POINTS, PLATINUM MEDAL
2021 Sommelier Challenge Wine Competition


Full throttle black cherry aromas are joined by gentle vanilla and oak spice aromas, and the palate adds notes of pepper to the proceedings. All the elements ride a supple grip through a long, lively finish. And the price? Ridiculous! A Platinum Award winner at the 2021 Sommelier Challenge International Wine & Spirits Competition.
95-POINTS Sep 28, 2021
OG N.86 Walla Walla Merlot hails from the same producer as all other offerings N.83 through N.89. These are largely estate wines and N.86 is entirely estate-derived as well, not to mention being the best wine of the bunch. Yep, my favorite.
I'm telling you, there is something about Washington State Merlot, and Walla Walla in particular. This is gorgeously crafted wine, elegant and seamless with ample heft, loads of complexity and perfectly-deployed wood. I could go on and on. In short, its a winner and I am confident it will have broad appeal for Cab-lovers, Pinot-lovers, and even Merlot-lovers (are there any of you left?).
Its an absolutely stupid deal at $18/bottle (vs. winery tasting room $50+/bottle). Looking for a daily cellar defender? You can't do any better than this.

Deep ruby in the glass, Cabernet-like. The bouquet is super-pretty with ethereal, powdery florals lightly-coating confectionary cherry truffle and raspberry puree underpinned with oak-elevated blackberry compote. Spicy too. Supple and seamless on entry (so smooooth!) yet robust with ripe red and black fruits nicely integrated with seasoned french oak and gorgeous acidity. Gobs of stuffing crest to reveal dark fruit and mineral-coated tannins unfurling a blast of raspberry/rhubarb, roasted poblano chile and a kiss of chocolate. Damn, that's good...beautifully-crafted and very expressive...nice to see oak so deftly deployed here, the light hand speaking to the quality of the fruit.
Check-in Tastings - 7.7.2021 - Wow gorgeous with pretty amalgam of cherry, dark earth, graphitic blossoms and seasoned oak. Still just a baby so give this a big decant or 24-hour decant prior to drinking. This is a stunning wine from a fantastic vintage and, quite frankly, why Merlot was and is such a big deal in Washington State. Grab this by the case and drink now and over the next decade or more.
_______________________________
77% Merlot, 18% Cabernet, 5% Syrah
100% estate, 100% Walla Walla Valley
17% new French oak
14.6% alc.
Bottled January 28th, 2021