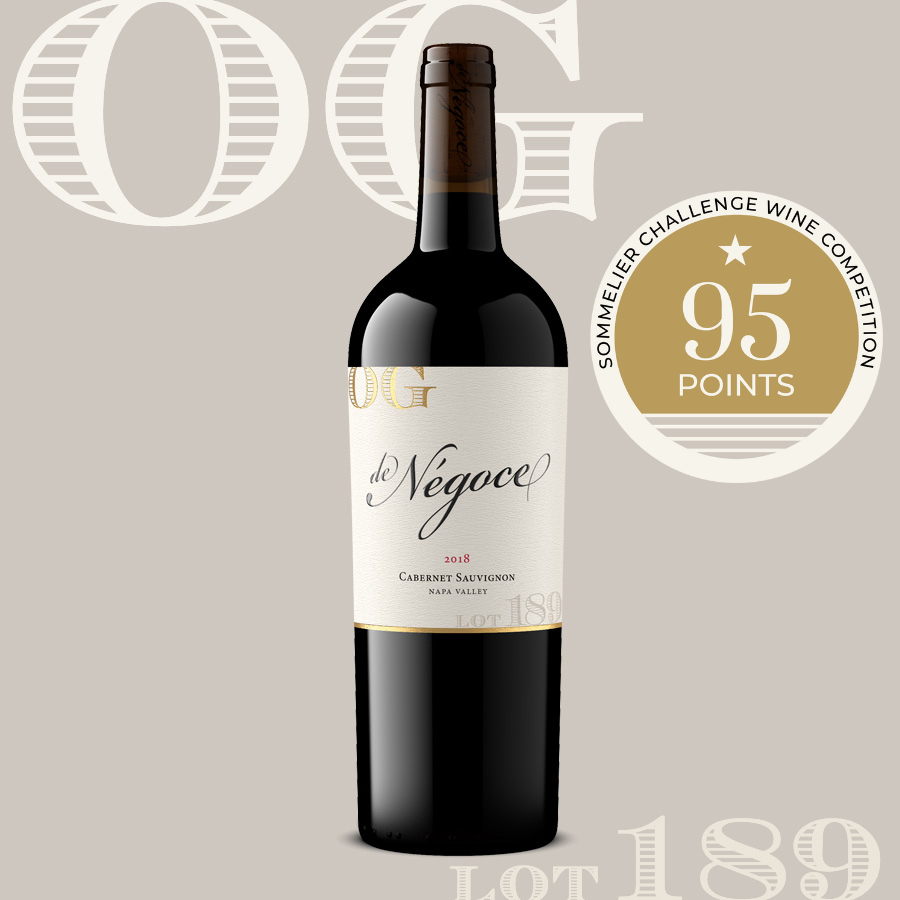 95-Points, Platinum Medal
2021 Sommelier Challenge Wine Competition
Another ridiculous value from de Négoce – one that is alive with acidity and ripeness that just sing in the glass and in the mouth. Vanilla and a touch of mint play a countermelody to the powerful blackberry and currant, and a little heat in the finish doesn't distract. Nicely realized! A Platinum Award winner at the 2021 Sommelier Challenge International Wine & Spirits Competition.
95-POINTS Sept 21, 2021
Lot 189 is sourced from the same producer as Lot 173 2018 Sonoma Mountain Cabernet Sauvignon so I have included that write-up below. Everything holds true for the 2019 wine. Typical of the vintage, however, the 2019 is a more open-knit style with riper fruit profile - its certainly less brooding and will be far more approachable in its youth than the 2018.

Sourced from a $95/bottle program, this is a no-expense-spared effort to create a flagship Cabernet for a small boutique brand from one of Sonoma Mountain's finest (and one of the first fully organic) vineyards, Murray Ranch. Murry Ranch's mix of volcanic soils and uplifted cobblestones serves as a key source for Paul Hobbs and Arrowood (until it was sold) as well as a slew of up-and-coming winemakers eager to establish their reputations for high-end Cabernet. The winemaker for this particular project is a high-end consulting winemaker for a variety of Napa Valley Cabernet producers with $150 to $300+ price points sourcing fruit from To Kalon and George the III. In short, this guy is legit.

Unfortunately, we were only able to secure 165 cases of the 2019 Cabernet and 125 of those case are up for grabs in 6-packs. As I said previously, Napa Valley Cab Lovers should not hesitate to secure their case. It is an incredible wine for $20/bottle.
Opaque, inky in the glass with a kiss of purple around the rim. Boisterous brambly blackberry an raspberry join cinnamon spice and crushed red rock with leather and white flower in an open-knit bouquet. Supple yet juicy on entry with rich black and red fruits melded to fine, minerally tannins that echo through the long, pretty finish. Super approachable and remarkably delicious now but you'll want to let this get through bottle shock (I'm catching it now with one-week in bottle) later this Fall.

98% Cabernet Sauvignon, 2% Malbec
45% new French oak
14.8% alc.
125 cases available
Bottled July 14th, 2021